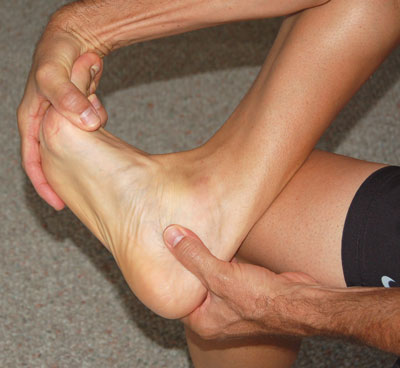 Overview
A common condition that affects people of all ages. Symptoms include heel pain that is worse upon arising in the morning or standing after prolonged sitting. The pain is caused by inflammation of the plantar fascia, the ligament that connects the heel bone to the toes.
Causes
Because the plantar fascia supports your foot and gets used every time you take a step, it has to absorb a large amount of stress and weight. If too much pressure is put on the plantar fascia, the fibers can become damaged or start to tear. The body responds by causing inflammation in the affected area. This is what causes the pain and stiffness of plantar fasciitis. Things that can increase the risk of plantar fasciitis include tight calf muscles. Tight calves make it harder to flex your foot, and this puts more stress on the plantar fascia. Weight. Carrying a few extra pounds puts added pressure on your feet every time you take a step. Activities that put a lot of stress on the feet. This includes things like running, hiking, dancing, and aerobics. Bad shoes. Footwear that doesn't give your foot the support it needs increases your risk of plantar fasciitis. You'll want to ditch any shoes that have thin soles or inadequate arch support, or ones that don't fit your feet properly. Routinely wearing high heels can also cause your Achilles tendon to contract over time, making it harder to flex your foot. Jobs that involve a lot of standing or walking on hard surfaces. Jobs that keep you on your feet all day, like waiting tables or working in a store, can cause damage to your plantar fascia. High arches, flat feet, or other foot problems. The shape of your foot can affect the way your weight is distributed on your feet when you stand. If weight distribution is a bit off, it can add to a person's risk of plantar fasciitis. How someone walks can increase the stress on certain parts of the foot too.
Symptoms
Most people with plantar fasciitis have pain when they take their first steps after they get out of bed or sit for a long time. You may have less stiffness and pain after you take a few steps. But your foot may hurt more as the day goes on. It may hurt the most when you climb stairs or after you stand for a long time. If you have foot pain at night, you may have a different problem, such as arthritis, or a nerve problem such as tarsal tunnel syndrome.
Diagnosis
A thorough subjective and objective examination from a physiotherapist is usually sufficient to diagnose plantar fasciitis. Occasionally, further investigations such as an X-ray, ultrasound or MRI may be required to assist with diagnosis and assess the severity of the condition.
Non Surgical Treatment
Many types of treatment have been used to combat plantar fasciitis, including injections, anti-inflammatory medications, orthotics, taping, manipulation, night splinting, and instrument-assisted soft-tissue manipulation (IASTM). IASTM begins with heat, followed by stretching. Stretching may be enhanced by applying ice to the plantar fascia. These stretches should be performed several times per day, with the calf in the stretched position. IASTM uses stainless-steel instruments to effectively access small areas of the foot. IASTM is believed to cause a secondary trauma to injured soft tissues as part of the healing process. Therapeutic modalities such as low-level laser, ultrasound, and electrical muscular stimulation may be effective in the reduction of pain and inflammation. Low Dye strapping or taping of the foot is an essential part of successful treatment of plantar fasciitis. Extracorporeal shock-wave therapy (ESWT) was introduced with great promise at one time. Recent studies have reported less favorable results. Some report no effect. Previous local steroid injection may actually have a negative effect on results from ESWT.
Surgical Treatment
In very rare cases plantar fascia surgery is suggested, as a last resort. In this case the surgeon makes an incision into the ligament, partially cutting the plantar fascia to release it. If a heel spur is present, the surgeon will remove it. Plantar Fasciitis surgery should always be considered the last resort when all the conventional treatment methods have failed to succeed. Endoscopic plantar fasciotomy (EPF) is a form of surgery whereby two incisions are made around the heel and the ligament is being detached from the heel bone allowing the new ligament to develop in the same place. In some cases the surgeon may decide to remove the heel spur itself, if present. Just like any type of surgery, Plantar Fascia surgery comes with certain risks and side effects. For example, the arch of the foot may drop and become weak. Wearing an arch support after surgery is therefore recommended. Heel spur surgeries may also do some damage to veins and arteries of your foot that allow blood supply in the area. This will increase the time of recovery.
Stretching Exercises
Stretching exercises for your foot are important. Do the stretches shown here at least twice a day. Don't bounce when you stretch. Plantar fascia stretch. To do the plantar fascia stretch, stand straight with your hands against a wall and your injured leg slightly behind your other leg. Keeping your heels flat on the floor, slowly bend both knees. You should feel the stretch in the lower part of your leg. Hold the stretch for 10 to 15 seconds. Repeat the stretch 6 to 8 times. Calf stretch. Stand with your hands against a wall and your injured leg behind your other leg. With your injured leg straight, your heel flat on the floor and your foot pointed straight ahead, lean slowly forward, bending the other leg. You should feel the stretch in the middle of your calf. Hold the stretch for 10 to 15 seconds. Repeat the stretch 6 to 8 times. Other exercises. You can also strengthen your leg muscles by standing on the ball of your foot at the edge of a step and raising up as high as possible on your toes. Relax between toe raises and let your heel fall a little lower than the edge of the step. It's also helpful to strengthen the foot by grabbing a towel with your toes as if you are going to pick up the towel with your foot. Repeat this exercise several times a day.